Preaching to Myself
Posted on March 28, 2008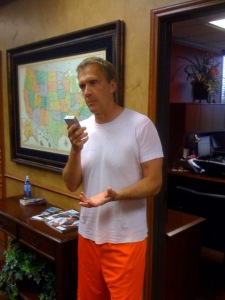 What do you do on your day off? Now that is a great question. Maybe a better one is do you actually take a day off? Yeah, we talk about it. But do we actually do it?
When I have the opportunity to speak to leaders I talk about the importance of living in the rhythm that God has given us; working six days and taking a day off. And I talk about backing off from technology and disengaging. But today, I'm finding myself doing this blog…on my day off! Here I am, at the office. Why am I here?
Again, talk is cheap. And after 18 years of preaching, I still struggle with working on my day off. Recently, I've fallen into a habit on Friday (my day off) of waking up early and looking over my message for several hours, which I really shouldn't do. But for me, it's like I can't get away from it. Every idle thought is about the talk and the responsibility and accountability of saying something on behalf of God. Yes, God uses my vocal chords. But the emotional buildup and stress of that weekend wave is hard to explain.
Do you struggle with this? I would love to hear from you. What do you do on your day off? Do you find yourself talking about taking a day off more than doing it? Do you find yourself working on your day off?
I guess I'm preaching to myself …
---
35 Replies to "Preaching to Myself"
---