Celebrating 7 Million Meals!
Posted on July 29, 2015
In 2010, the nation of Haiti was hit with an earthquake that rocked that nation to its core. That same year, Fellowship Church established C3 Global, an organization whose goal is to collaborate with and unite churches to work together around the world. One day after that devastating earthquake in Haiti, C3 Global hit the ground, ready and able to help that nation recover.
Since we began our work in Haiti, we have extended our reach to include Guatemala and Nicaragua as well. And this year, we celebrate having served over 7 MILLION MEALS in those nations!!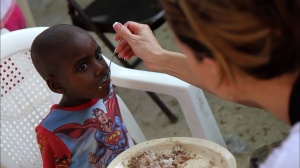 Together we are focused on not only sharing the message of hope, but also showing the world around us the love of Christ. How do we do it? Through our NEST initiative. What is NEST?
Nutrition – Since we began working in Haiti, Nicaragua, and Guatemala, those 7 Million meals have been provided to approximately 2,500 children in a total of 25 orphanages and 6 villages.
Education – In addition to providing meals for less fortunate children, C3 Global is also working with New Life Chapel in Los Chilitos to build a permanent school for the children in that area.
Sanitation – One of our goals is to help improve the living conditions and teach basic hygiene to the families in Haiti and Guatemala.

 By improving sanitation, C3 Global has provided healthier environments for children, adults, and families.

Transformation – Our ultimate goal is to help the people around the world experience the life transformation that only comes through a personal relationship with Jesus Christ. While providing nutrition, education, and sanitation are crucial, the goal of introducing people to Christ sets C3 Global apart from all other organizations. Through Elevate – curriculum written and produced at Fellowship Church – the children in these countries are learning about the Bible and all that God has for them as they move forward in life!
I want to thank each person who is connected to Fellowship Church, the C3 Conference, and C3 Global for the work that we have accomplished together. For a look at what we have been doing, you can check out our work in Haiti or our latest C3 Global trip to Guatemala.
There's no question that God continues to use us as we work together. It is amazing to see the reach He has allowed us to have and the work He has blessed us to be part of. I can't wait to see what God continues to do as we work together to transform the world!
---
No Replies to "Celebrating 7 Million Meals!"
---