Bienvenidos!
Posted on May 28, 2008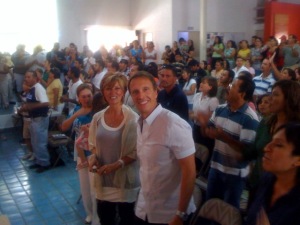 Lisa and I really enjoyed the opportunities we had to speak at two churches this past weekend in Mexico–Cabo English Church and Redes Christian Church. Thanks, Pastor Mike and Pastor Valdir!
---
4 Replies to "Bienvenidos!"
valdir y martha corte

May 28, 2008 (11:27 am)

thanks P.ED AND LISA YOUNG for your time in cabo san lucas and the message for the church DESPIERTATE .
GOD BLESS YOUR MINISTRY.

eric

May 28, 2008 (4:54 pm)

Hello Ed, I was blessed to be in Cabo when you spoke last Sunday. I loved your message.
Eric

May 30, 2008 (7:09 pm)

muchos gracias!

lisa young

June 6, 2008 (7:54 am)

I had to let everyone know what a great experience it was for us to worship in Cabo. This came together with the help of Pastor Jose from the Rock church in San Diego (he interpreted for us). The entire trip was great as we were with old friends but it was the meeting with our new friends that put the trip "over the top". Cabo English Church was terrific and many thanks to the leadership there who welcomed us into their family. Also, to Valdir and Martha, we loved being with your boys for lunch and for getting to know you. I will forever be grateful for the opportunity to worship with you and see the people (young families, students, children and senior adults) praising God with words I could not understand. The power of Christ is so evident when praise songs are being sung in a different language (espanol) and there is now lacking in understanding. It was a wonderful experience for Ed and me and we hope to share more time with you all in the future. The kingdom of God is so much more expansive than our minds can comprehend.
I am excited to know that Christ is being lifted up throughout the world.
Remember, "ONE PRAYER" is for the church and seeing others join in!
---